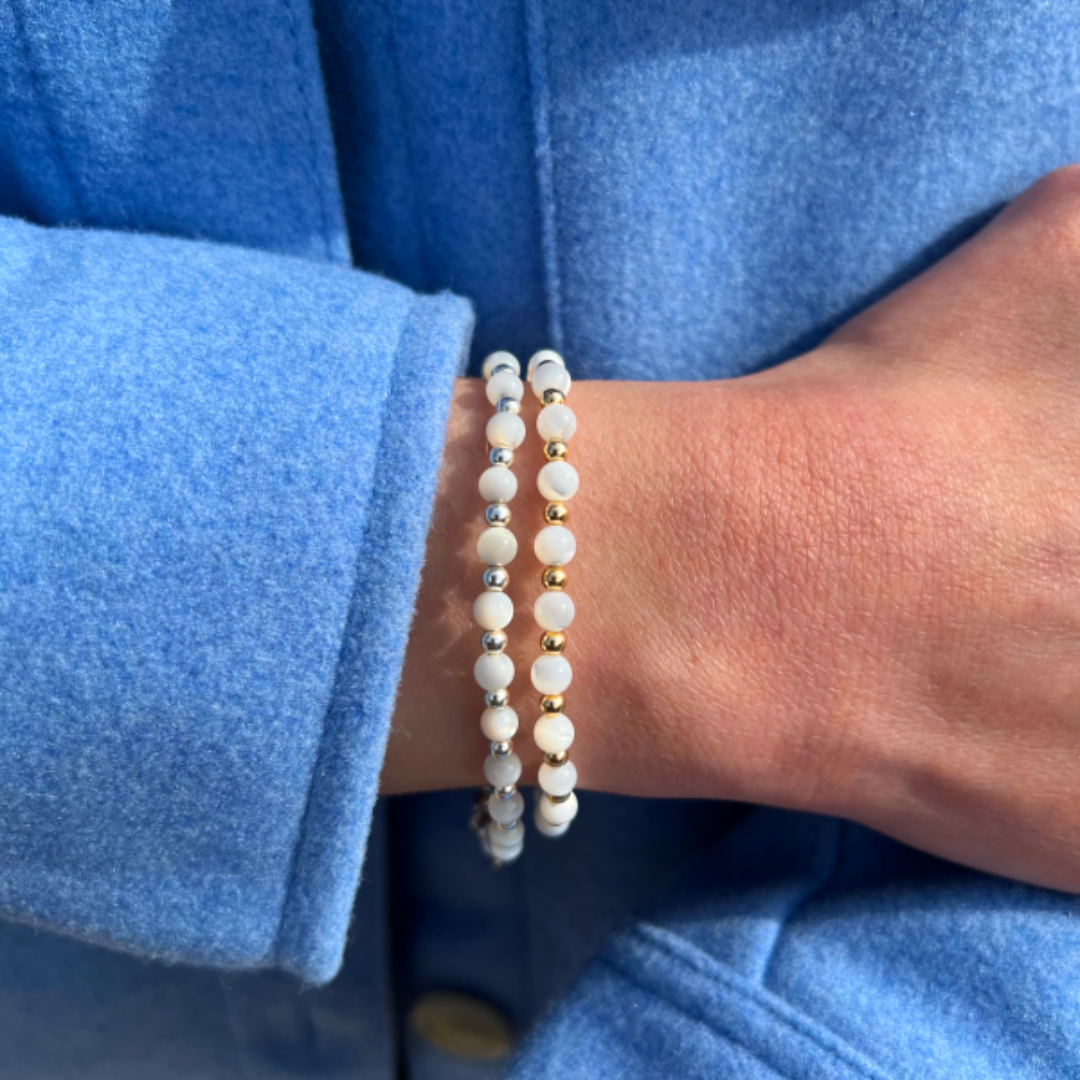 Introducing Our Mother of Pearl Gemstone Bracelet
Inspired by warmer days and my love for gemstones, I want to introduce you to our brand-new Mother of Pearl Gemstone Bracelet, handmade by us in the UK.
Dainty, elegant and perfect for stacking, the Mother of Pearl Gemstone Bracelet is unique to our other classic Tomm Bracelets with an alternating style of gemstone and sterling silver bead. This bracelet is strung on high-quality jewellery elastic and will be cherished by yourself or a loved one for many, many years.
The making of our Mother of Pearl Gemstone Bracelet
I've always loved gemstones, even from the moment I started making jewellery at home from the young age of 10. I loved their softness, their beauty and their precious meaning. Our Mother of Pearl Ring has also been loved by our customers, so when I started designing our new collection for 2022, I knew I wanted to create a beautiful and unique Mother of Pearl Gemstone Bracelet to match.
Mother of Pearl is also the birthstone for June (that's me!), so of course this gave me an even bigger motive to create a Mother of Pearl bracelet that I too would wear and cherish myself. Traditional MOP jewellery designs can be seen as tired and outdated and I wanted to break this stigma and create something that would be worn and loved by all ages!
Originally, I designed this bracelet with gold-filled beads which stole my heart straight away. The contrast of the pearly white shell against the yellowing gold is striking, yet elegant and I just know it'll look beautiful against sun-kissed skin in the summer. Having said that though, this bracelet in sterling silver is just as beautiful.
What does the Mother of Pearl symbolise?
Commonly, the Mother of Pearl is believed to attract prosperity and heighten imagination. It's also said to offer motherly protection from negative energy and love, while soothing the soul.
In Hinduism, the stone is linked with the feminine form of God, hence why it is considered to be the symbol of femininity. It's said that pearls and mother go hand in hand as both signify feminine, beauty and grace.
Due to its motherly protection and connection with the feminine form, this gemstone makes for a wonderful Mother's Day gift. Not only does the bracelet has incredible meaning behind it, but thanks to the beauty of our Mother of Pearl Gemstone Bracelet it'll be adored by mother's of all ages and can be stacked beautifully with our Tomm Collection.
On an inner level, pearls can also signify intelligence. And on a spiritual level, the pearl is said to positivity affect our lives when worn.
Who should wear the Mother of Pearl?
Well, anyone who see's the beauty of this bracelet can wear it, of course. But especially those who easily feel the emotional effects of the world.
In fact, this bracelet would make a wonderful bracelet for the following…
Mother's
Children
Individuals who seek intelligence and guidance
June babies
Individuals who seek good energy and spirit
So who would you gift our beautiful new gemstone Bracelet to?
I think no matter how you've previously felt about pearls when it comes to jewellery, this bracelet really does have the ability to completely transform those feelings. Not just because of its beauty and uniqueness to traditional pearl designs, but because of the deep meaning the MOP holds.
Click here to shop our Mother of Pearl Gemstone Bracelet.
Enjoy!
Lucy x
PS, don't forget to follow us on Instagram!