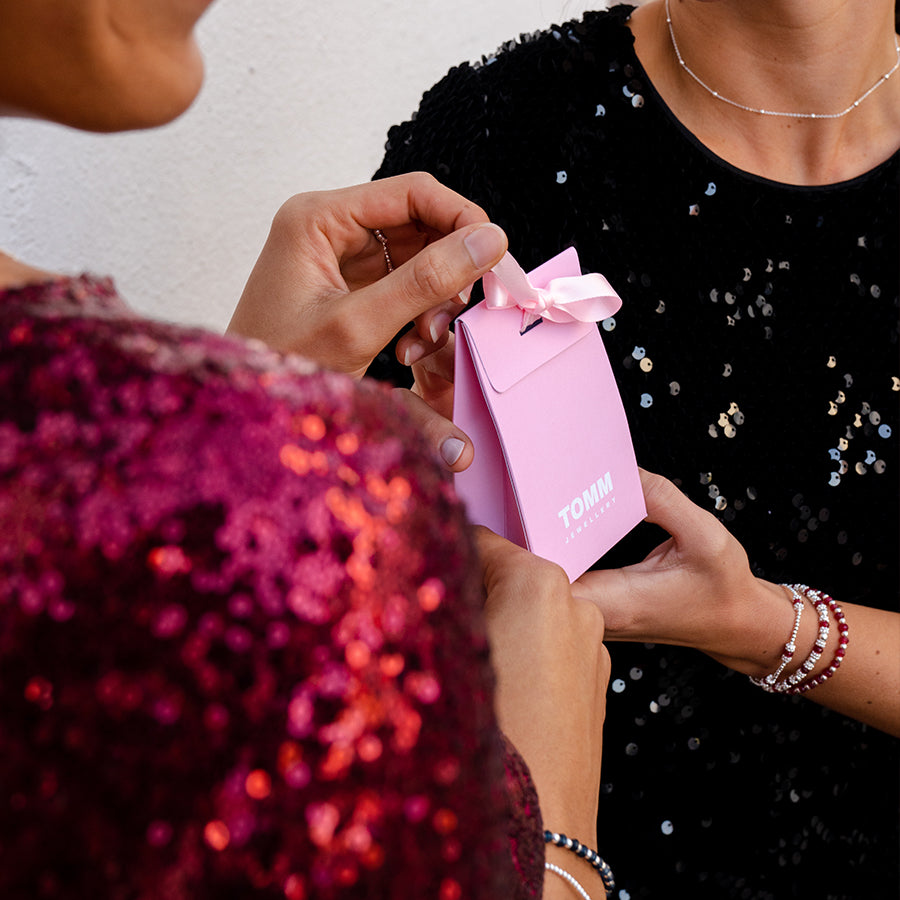 Christmas Jewellery Gift Guide For Her
Tis the season to gift a loved one with jewellery! From freshwater pearls to crystals and gemstones, we have so many beautiful jewellery gifts for you to give this Christmas. Whether you're surprising mum to her first TOMM piece, treating your bestie to a matching bracelet or getting personal with our personalised collection, we have something for everybody this festive season.
Shooting Star Crystal Necklace
Make Christmas special this year with our beautiful and eye-catching Shooting Star Necklace. Perfect layered with our dainty choker necklace, this piece also comes with a matching bracelet for the complete TOMM look!
Secret Santa or Stocking Fillers

Next up are our beautiful and quirky sterling silver gemstone & crystal rings. These handmade rings are the perfect stock fillers or secret Santa gifts this Christmas, with meaning behind each chosen gemstone or crystal. If you know someone who loves a pop of colour, then our bold gemstones are the perfect option, otherwise the Mother of Pearl Ring would make a fabulous gift. This stone is known to offer soothing and motherly protection from negative energy and love.
Drop Heart 

Hoop Earrings

 
My favourite new unique hoop from our new Aurora Winter Collection! If you or someone you love adores our Star & Heart Huggies, then our new Drop Heart Hoop Earrings are for you! Thanks to their unique look which give an illusion of the heart from behind, they're a one of a kind piece.
Moonstone: Inner Growth & Strength
I wear this bracelet every single day and it was one of my first stacking bracelets from Tomm Jewellery. The Harmony Moonstone Bracelet and Ring is one of Tomm Jewellery's best-sellers and its really not hard to see why! Not only does the moonstone look absolutely beautiful against the sterling silver noodles and beads, but again, just like Tomm's other gemstone pieces, it has wonderful meaning behind it. The moonstone is the stone of inner growth and strength, making it the perfect gemstone for a strong loved one. I personally adore the Harmony Moonstone Bracelet, but the ring (at just £25) will also look beautiful on, especially if you love to stack your rings for a unique boho look!
Freshwater Pearl: Stacey Solomon's Wedding Bracelet
The reason why we went viral July 2022 is because Stacey Solomon purchased and wore our Gold Freshwater Pearl Bracelet on her wedding day! This beautiful bracelet has been cherished by so many people this year and it's a piece I personally wear every single day. Made with freshwater pearls which have been responsibility sourced, this bracelet is made on high-quality jewellery elastic and is available in both sterling silver and 9ct gold-filled. If you're looking for a complete look, then don't miss our matching Freshwater Pearl Necklace & Droplet Pearl Earrings!
Dainty Pearl Droplet Earrings
After our Freshwater Pearl Bracelet went viral in summer, we couldn't not bring out some matching earrings for all of our 2022 & 2023 brides who were requesting them! Our Dainty Pearl Droplet Earrings are an elegant addition to your earlobes that match our Freshwater Pearl Necklace and Bracelet so beautifully. Any mum, grandma or even daughter will love these for Christmas!
Personalised Initial Charm Bracelet
Also worn by Stacey Solomon and her bestie, Mrs Hinch, our Personalised Initial Charm Bracelet is another beautiful sentimental piece to gift to a loved one this Christmas. Whether you're surprising your partner or perhaps your mum, choose your chosen initials of up to six (kids or grandchildren are a favourite option) and then choose your favourite charm to sit beside the hand stamped initials. This is the perfect piece to keep something close to your loved one and if you ask me, personal gifts don't get any better than this!
Shop and personalised your bracelet now!
Jewellery Making Kits
Do you know someone who loves to get crafty? Our jewellery making kits allow you to make your very own TOMM jewellery in the comfort of your home! Perfect for both big kids and small (I'm not judging you adults!) and at just £14.99 our kits are the perfect gift or stocking filler for anyone this Christmas. The question is, what colour will you pick? Pink, blue, green or rainbow?!
Shop Jewellery Making Kits now!
Hollow Heart Crystal Studs
Perfect for any little (or older) girl this Christmas, consider our Hollow Heart Studs the perfect TOMM starter. A pair of sweet, dainty studs with a touch of sparkle thanks to the beautiful cubic zirconia crystals. These earrings are available in sterling silver and gold plating!
Shop earrings now!

Touch of Quartz Bracelet
I couldn't not include one of our most-loved and best-selling bracelets, our beautiful Touch of Quartz Bracelet. Rose quartz is known as a healing crystal and is the stone of unconditional love. The blushing hue of Rose Quartz seems to snag everyone's heartstrings and there is something about this soft and feminine crystal that oozes pure love.
Emerald Crystal Bracelet Stack
Last, but certainly not least, I thought I would share with you one of TOMM's new gorgeous bracelet stacks. This one here is my favourite: the Emerald Crystal Bracelet Stack. Featuring our three most popular bracelet styles, Dream, Inner Strength and Freedom, this stack is made with precious dyed emerald coloured agate crystals and 925 sterling silver beads.
Green agate is said to be a brilliant gemstone for healing the mind, body and spirit. It is said to be used for protection and soothing the individual. I think it looks absolutely beautiful with its three sterling silver stacking bracelets and of course, would make a wonderful Christmas gift.
If you have a soft spot for gemstones, then make sure you also check out Tomm Jewellery's entire gemstone collection here. Happy Christmas shopping, everyone! Lucy x