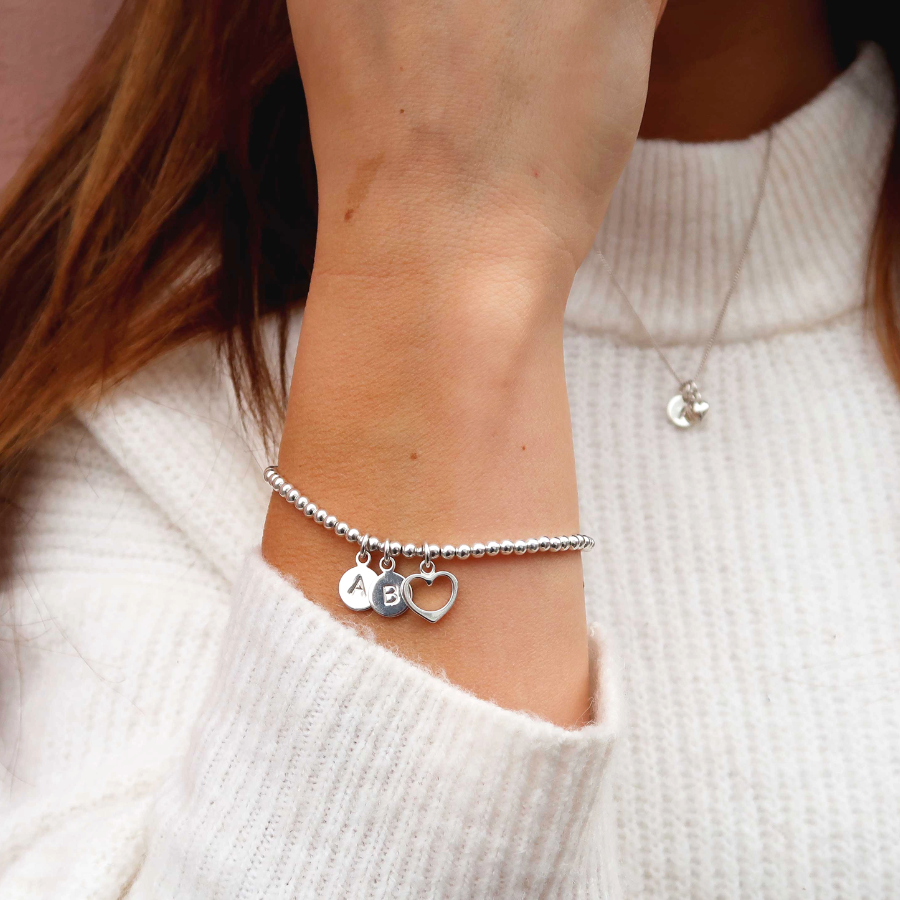 The Perfect Personalised Jewellery For Mum
Spoiling mum and showing her how much you truly care has never been so easy with our personalised jewellery collection.
With a beautiful range of hand-stamped pieces, our personalised jewellery helps you create a meaningful story just for mum that can be worn everyday, forever.
Personalised jewellery isn't just another piece of jewellery, it's a special piece that can serve as a reminder of a special time in your life, or perhaps a cherished keepsake that will be loved for years to come.
Our personalised jewellery is designed to celebrate precious memories, including motherhood which we believe should be celebrated everyday. So, to help you choose your perfect personalised jewellery piece for mum, here are a few of our favourites...
Personalised Initial Charm Bracelet just for Mum
A best-seller for a reason, our Personalised Initial Charm Bracelet is loved by both Stacey Solomon & Mrs Hinch. This bracelet is handmade in 925 sterling silver beads and hand-stamped with your initial of choice. Choose up to five initials and pick a charm that represents your mum the most.
Shop this bracelet now.
Create Your Own Personalised Necklace for Mum
Creating your own necklace for mum has never been so easy with our Personalised Necklace. Similar to our Initial Charm Bracelet, this necklace allows up to five initials and charms of choice, making it the perfect personalised jewellery gift for mum.
Shop this necklace now.
Personalised Freshwater Pearl Bracelet for Mum
Worn by Stacey Solomon on her wedding day, our Freshwater Pearl Bracelet is a viral best-seller and now comes with the option to add a hand-stamped initial. Pearls are also known for their loving and motherly protection, making this the perfect for any mum.
Shop this bracelet now.
Engravable Chunky Star Charm Bracelet for Mum
For all the star lovers out there, our Engravable Chunky Star Charm Bracelet is a gorgeous piece that's not only thoughtful, but will make a statement too. 
Shop this bracelet now.
Personalised Star Charm Initial Necklace for Mum
Another best-seller, our Star Charm Initial Necklace is a perfect option for those looking to hand-stamp just one initial. Crafted in sterling silver, this necklace can be made with a 16, 18 or 20 inch chain.
Whatever personalised jewellery you choose for mum, just know they'll cherish it forever. And to make it extra special, we also have the option to add a handwritten note at checkout, so don't miss out on the extra touch of personalisation!
Love, Lucy x