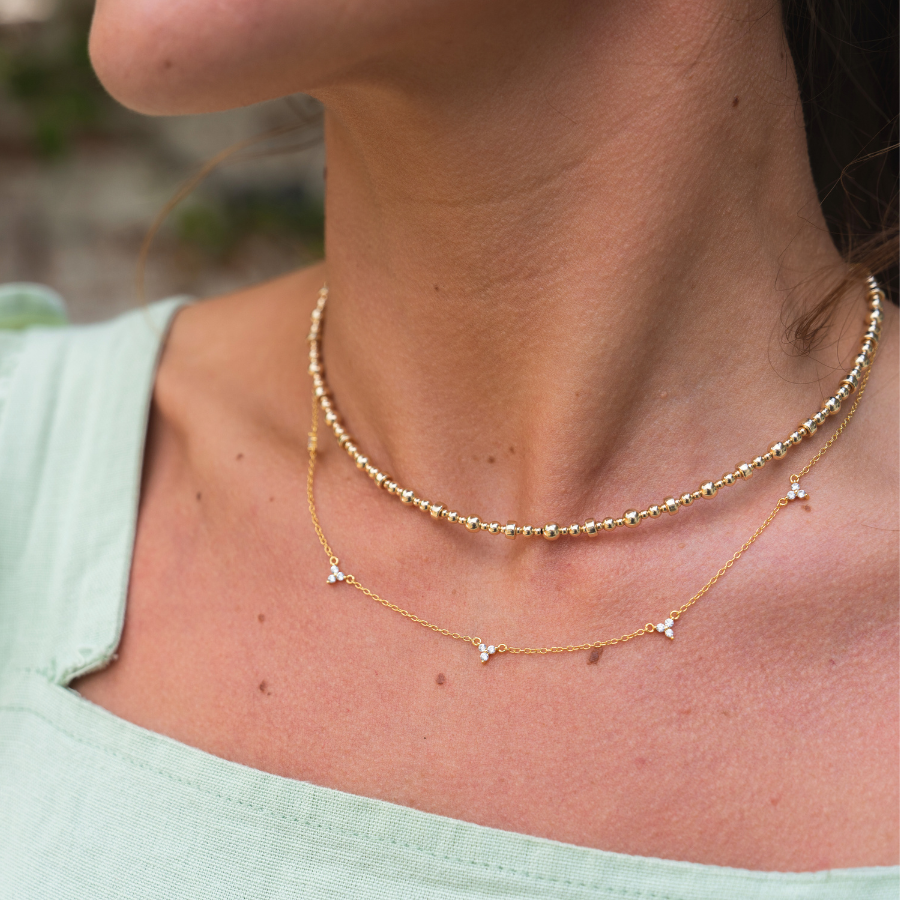 From the perfect layering necklaces to birthstone necklaces, finding a range of cute necklaces for her, whether it's your mum, girlfriend, best-friend or niece, has never been so easy at TOMM Jewellery.

With a beautiful range of handmade pieces, our cute necklaces are the perfect gift that will be cherished forever by your loved one and I'm here to help you find the perfect one...

Birthstone Necklaces
Part of our new Spring Summer 23' Collection, our precious Birthstone Necklaces are a wonderful sentimental gift for her. But what most people don't realise however, is that birthstone jewellery can hold so much more meaning than just the individuals birthmonth. Whether it's her children's birthdays, a cherished lifetime moment, such as a wedding, or even her parents or grandparents birthmonths, our birthstones make cute necklaces.
Moana Wave Beaded Necklace
This necklace was inspired by my love of the ocean and its different textures. Did you know the name Moana stands for ocean? If you know someone who loves the ocean, then our Moana Wave Beaded Necklace is a special piece to gift.
Shop Moana Wave Beaded Necklace
Beaded Ball Necklace
For the ladies who love handmade pieces, or particularly cute necklaces that they can layer, our Beaded Ball Necklace is a brilliant gift idea. This necklace will help transform any outfit, catching the eye of friends and family. Available in 925 sterling silver and 9ct gold-filled beads.
Create Your Own Necklace
If you're still undecided, then why not create your own necklace perfect for her? Choose your initial & chosen charm and we'll hand stamp the letter on a sterling silver disc and pair it with the charm that you think she'll love the most. Each charm represents a different meaning, so choose carefully and this might just be the most thoughtful gift you've given! 
Barleycorn Necklace
A unique and stylish barleycorn chain, designed with dainty links to create an eye-catching piece, that can be worn alone or layered with other cute necklaces. 
If you know someone who loves a minimalist, dainty look, then our Barleycorn Necklace is the perfect piece which can be worn day or night. 
Diamond Shaped Droplet Crystal Necklace
Add a subtle touch of sparkle to a loved one's outfit this summer with our gorgeous Multi Droplet Crystal Necklace. Made on a delicate chain with seven diamond shaped droplet crystals; This necklace is made for layering. Whether it's worn day or night, this necklace is the perfect piece for a true summer evening boho look.
Shop Diamond Shaped Droplet Crystal Necklace
Freshwater Pearl Necklace
Designed to match our Freshwater Pearl Bracelet, worn by Stacey Solomon on her wedding day, our Freshwater Pearl Necklace is a special piece which will be held close to the heart for years to come.
Pearl symbolise wisdom and inner peace, making this a meaningful gift to give.
Shop Freshwater Pearl Necklace
Whatever cute necklaces you choose for her, just know she'll cherish it forever thanks to the special meaning behind each piece. To make it extra special, we also have the option to add a handwritten note at checkout, so don't miss out on the extra touch of personalisation!
Love, Lucy x