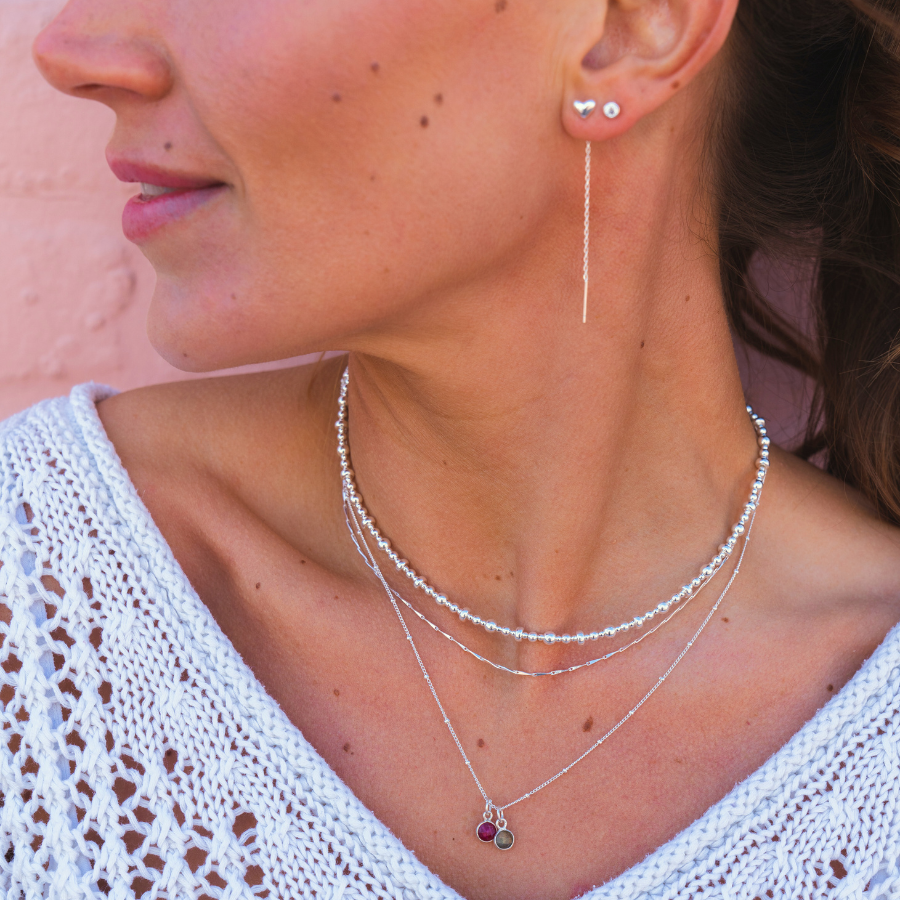 Choosing A Necklace For your Girlfriend
Choosing the perfect necklace for your girlfriend - stuck for ideas? We got you!
Whether you're celebrating a special occasion or simply want to surprise her with a thoughtful gift, a necklace chosen by you can be the perfect option.

1. Consider her style
The first step when it comes to choosing a necklace for your girlfriend is to take her personal style into account. What does she prefer? Minimalistic dainty pieces, or does she love more statement pieces? When you figure out what jewellery she loves the most, this will help you choose the perfect piece that she'll actually want to wear.
For the girl who loves dainty necklaces, our Barleycorn necklace will be loved by all thanks to its dainty lace chain. Shop Barleycorn Necklace now.
2. Choose the right metal
Choosing the right metal is crucial when it comes to choosing the perfect necklace for your girlfriend. What does she wear the most? Silver, gold or both? If she tends to wear silver, then she might prefer cooler tones, while gold or rose gold lovers might opt for warmer hues. Taking a look at her current jewellery collection will be a big help!
3. Pendant power
Pendants are perfect for those who love to add a little extra to their outfit. Choosing a pendant that represents them the most, shows them that you've put thought and attention into the gift. 
Our Dainty Heart Necklace is a piece loved by all, thanks to it's detailed and dainty pendant. Shop Dainty Heart Necklace now.
4. Birthstone necklaces
Birthstone necklaces are a special way to incorporate your girlfriend's birthmonth into a meaningful piece of jewellery. Each month has its own unique gemstone associated with it, representing different qualities and energies. Or, why not choose a gemstone that holds special meaning for both of you?
Shop our Birthstone Necklace Collection now.
5. Length and layering
Necklace stacking is all the rage right now, so this is probably something to consider - trust me, your girlfriend will love you for it!
Necklaces come in various lengths, so it's important to consider the neckline of the clothes your girlfriend usually wears and, most importantly, if she layers her necklaces together or not.
A shorter necklace, like a choker, pairs beautifully with a V-neck or a scoop neck. While longer necklaces, such as a pendant on a chain, can complement high necklines or open collars. 
Take a look at our necklaces here which come in a range of different lengths.

Remember, the most important factor when it comes to choosing the perfect necklace for your girlfriend is the thought and effort you put into it. The necklace should reflect her unique personality and remind her of your love and appreciation.

Happy necklace hunting! Lucy x