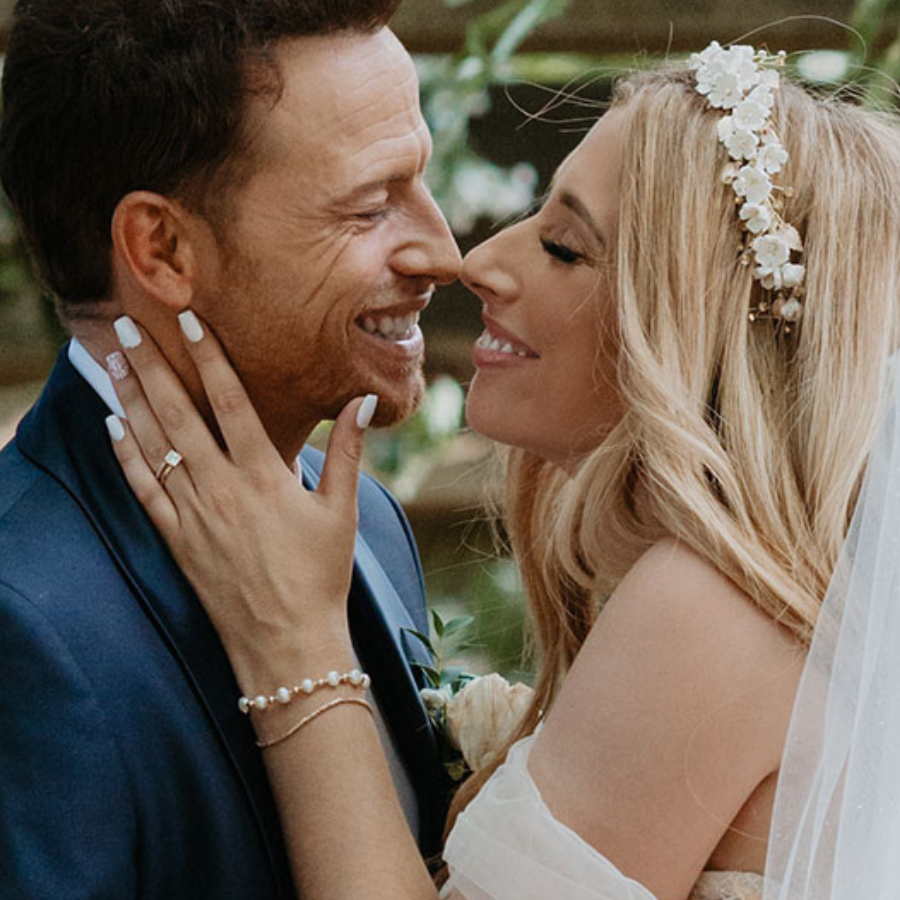 Stacey Solomon's Bracelet: Freshwater Pearl Bracelet
 In the world of weddings, every detail counts, from the dress to the venue and, of course, the jewellery. One particular celebrity bride who captured the hearts of many with her stunning wedding day look was none other than the talented and down-to-earth Stacey Solomon. Last year, Stacey chose to wear our breathtaking Freshwater Pearl Bracelet, adding a touch of timeless elegance to her special day. Let's delve into the significance of her bracelet and the beauty of this delicate accessory.
A Radiant Bride:
Stacey Solomon, the beloved British television presenter and singer, has always been known for her effortless style which she shares with many. After Stacey first wore TOMM back in 2021, she has since been spotted wearing a collection of our pieces.
When it came to her wedding day, Stacey's sister, Jemma, contacted us to help make the jewellery for Stacey and her bridesmaids. We wanted to create a look that reflected her personality, captured the essence of her romance with Joe Swash and most importantly, complimented the look of her dress.
The Timeless Appeal of Freshwater Pearls:
Freshwater pearls have long been admired for their luminous beauty, organic textures and timeless appeal. Their soft luster and varying shapes make them a versatile choice for any occasion, especially weddings. Every bride who chooses to wear Freshwater Pearls on her wedding day shows her appreciation for classic elegance while embracing a touch of modernity. Oh, and did we mention pearls are all the rage for 2023?
Pearl Symbolism
Beyond their aesthetic allure, pearls hold deep symbolic meaning. They are often associated with purity, motherly protection, and love, making them a natural choice for wedding jewellery.
With our beautiful freshwater pearls, Stacey Solomon's wedding bracelet symbolized the purity of her love for Joe and the beginning of their journey as a married couple.
Choosing the Perfect Freshwater Pearl Bracelet:
Crafted with care, our Freshwater Pearl Bracelet features lustrous white pearls delicately strung together, creating an elegant and feminine design. Its simplicity allowed it to harmonize effortlessly with Stacey's bridal gown, enhancing her overall look without overpowering it.
The Influence on Bridal Trends:
Celebrity weddings often have a significant impact on bridal trends, as fans and admirers eagerly seek to emulate their favourite stars. Stacey Solomon's choice to wear a Freshwater Pearl Bracelet has undoubtedly sparked a renewed interest in these timeless gems among brides-to-be seeking their once in a lifetime wedding jewellery. And now, with pearls making a huge comeback for 2023, more and more brides are opting for pearls to enhance their elegant and timeless wedding day looks.
It will forever be a pinch me moment when we saw Stacey Solomon wore our bracelet on her wedding day. Since then, we have handmade thousands of Pearl Bracelets for brides all over the world.
As the allure of pearls continues to captivate brides worldwide, Stacey Solomon's embrace of the Freshwater Pearl Bracelet has solidified its place as a symbol of timeless beauty and enduring love.
So, if you're a bride-to-be seeking a touch of elegance and symbolism for your wedding day, take inspiration from Stacey Solomon and consider the understated beauty of a Freshwater Pearl Bracelet or for more inspiration browse our specially curated wedding jewellery collection. Let the luminous pearls grace your wrist, radiating love and purity as you embark on your own beautiful journey.

Lots of love, TOMM x